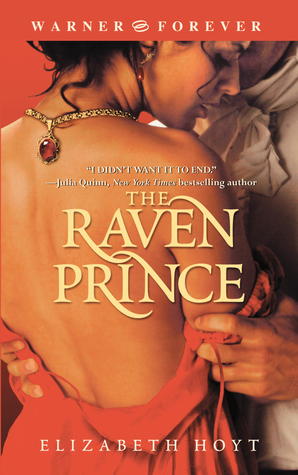 Title:
The Raven Prince
Author:
Elizabeth Hoyt
Series:
Princes Trilogy, #1
Publisher:
Warner Forever
Release Date:
November 1, 2006
Pages:
356
Rating:
Widowed Anna Wren is having a wretched day. After an arrogant man on horseback nearly crushes her, she arrives home to learn that she is in dire financial straits.

There comes a time in a lady's life ...

The Earl of Swartingham is in a quandary. Having frightened off two secretaries, Edward de Raaf needs someone who can withstand his bad temper and boorish behaviour.

When she must do the unthinkable

When Anna becomes the earl's secretary, it would seem that both their problems are solved. But when she discovers he plans to visit the most notorious brothel in London, she sees red - and decides to assuage her desires ...
It was a complete shock that I didn't like this book all that much, because there are such wonderful reviews out there for
THE RAVEN PRINCE
, but the book felt just average for me, not just the book, but the characters and the plot as well.
We have a story of a earl and a widow who have both been married and been through it all. The widow, Mrs. Anna Wren and earl, Edward become boss and employer to each other and sparks fly between the two of them. I found it frustrating that it felt like they were fighting the attraction big time or maybe that was just Edward. But it was very exhausting to read about and I just wanted them to get on with it.
It took at least 240 pages for me to really actually get interested in the story. I mean really interested in the story and at it being a total of 356 pages, that is almost the whole book. I enjoyed it much more after the 240 page mark, but I can't give it a higher rating since all the rest was very dull and boring for my tastes.
After the 240 page mark I really started to like the characters more and finally the characters are getting somewhere in their relationship. Edward seemed more likable when he had such a temper on him around Anna. Anna had a past and even though she was attracted to Edward she was very hesitant for anything beyond that attraction.
The story of
THE RAVEN PRINCE
had potential which reached the approval of many other readers, but not me. I sort of have a love/hate relationship with the book, so I will read the next one to give the series another chance, but maybe not for a while. For all the high ratings of
THE RAVEN PRINCE
I really wish I could've liked this one, but unfortunately this one goes in the "Historical Romance Book #2" list I didn't really like.