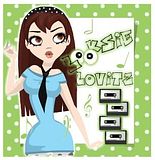 IDENITY:
BRITTANY DELACY
Which character would you take as your Husband?
Jay Heaton from The Body Finder. No super powers or anything. Just best friend who became the most awesome boyfriend ever. Actually, he kind of reminds me of my boyfriend now.... hmmm.... What are you telling me subconscious?
Which 5 book characters would you take as Lovers?
Dimitri from Vampire Academy by Richelle Mead. I'm a sucker for a tough guy with an accent.
Dorian from the Dark Swan series by Richelle Mead. Boy Richelle Mead sure knows how to make the hottest guys, eh? Anyway, King Dorian can seduce me anytime.
Jace Wayland from The Mortal Instruments series by Cassandra Clare. I don't know if I really need to elaborate here. I mean, it's JACE. What's not to love about all those muscles and tattoos and fighting skills and prowess? Rawr.
Tucker Avery from Unearthly by Cynthia Hand. He can tease and be rude as much as he wants with his hot cowboy moves.
Eric Northman from the Southern Vampire series by Charlaine Harris. Bill? Who is this Bill you speak of? Give me this powerful blonde vampire viking any day.
Exact thoughts when you are waiting for a upcomming book release you are dying to read?
C'mon already! I just want to read you and obsess about you and talk about you. Why aren't you here yet?! What can I read in the meantime to distract me?
What book series are you currently obsessing over?
Well, this switches from minute to minute but I recently read the e-galley of sequel to White Cat by Holly Black called Red Glove and it was nothing short of amazing and I'm already dying to read the third even though Red Glove isn't even out yet.
If you could trade places with one book character, who would it be and why?
Maddie from the Granzfield series by Kate Kaynak. This girl can read minds and has a super cute guy named Trevor. And she's practically a secret agent going on missions and stuff. Sounds really exciting!
Random Short Answer
Vampire or Shifter? Shifter. Living forever sounds kind of boring but shifting? Sounds phenom.
Book or Ereader? Book. I like displaying my reads on my shelf like they are trophies.
Angel or Demon? Demon... I got a thing for bad boys. Plus I'm not so innocent myself.
Paperback or Hardback? Both. Paperbacks are more comfortable to read but Hardbacks look so much nicer and they are more durable.
Favorite Vampire? Adrian Ivashkov from Vampire Academy by Richelle Mead. Royal bad boy vamp who is a little crazy but totally hot. Nom nom
Favorite Shifter? Calla from Nightshade by Andrea Cremer. I love that she's a tough girl heroine and a leader.
YA novel or Adult novel? Both. I just don't like overly obnoxious romance-novely sex scenes so I tend to stick to YA but I would be happy to take some recommendations for some good adult books.
Brittany's Blogger Workspace
Thank you so much Looksie for joining me for Blogger Secrets this week.
=D